Seattle
(U.S.A)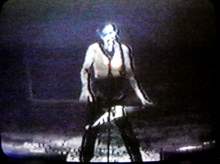 Place : Seattle, Key Arena
Date : 03/03/99
Time : 85 min
Qualité image / sound : A- / B+
Format : VHS master
Tracklist :
Inauguration of the Mechanical Christ
The Reflecting God
Great big white world
Get your Gunn
Mechanical Animals
Sweet Dreams
The speed of pain
Rock is dead
The Dope Show
Lunchbox
I don't like the drugs
Irresponsible Hate Anthem
Antichrist Superstar
The Beautiful People
Coma White
Rock'n roll nigger
Note : If there is only one show to choose in 1999, it would be this one. Setlist is amazing with a surprising Coma White played ! Bootleg is a mix between 2 videos, it is approximately the same view.
Rarety : 07/10 (vhs master copy)