Paris
(France)
Place : Paris, Le Zenith
Date : 25/01/01
Time : 85 min
Qualité image / sound : B
Format : VHS master
Tracklist :
Count to six and die
Irresponsible hate anthem
The death song
Disposable teens
Great big white world
Tourniquet
The fight song
The Nobodies
My Monkey
Lunchbox
Rock is dead
The Dope show
Cruci-fiction in space
Cake and Sodomy
Burning flag
Sweet dreams
Valentine's day
The love song
The Beautiful people
1996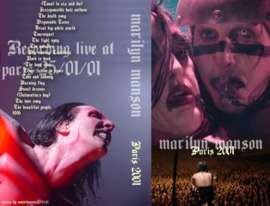 Artworks by NCB (bootlegcoverart) and Heavenj15
Note : Un trés bon concert parisien et une trés bonne video également. Filmée des tribunes elle offre de trés bons zooms, particulièrement durant Cruci-fiction in space où Manson monte à plus de 5m de haut. Malgré quelques têtes durant Rock is dead ou Sweet Dreams, le bootleg est donc facilement regardable et écoutable grâce à un son correct.
Rarety : 07/10
7