Time : 74 min
Quality Image / Sound : B+/A
Format : DVD (x2)
Tracklist :
Introduction
If i was your Vampire
Disposable Teens
You and me and the devils makes 3
Irresponsible hate anthem
mOBSCENE
Sweet dreams (are made of this)
Putting holes in happiness
Just a car crash away
Rock is dead
Heart-shaped Glasses (when the heart guides the hand)
Tainted love
The Dope Show
Great big white world
The fight song
The beautiful people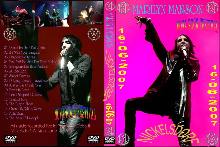 Artworks by Diamond_D (bootlegcoverart) and DAVE

Note : Deuxième participation du groupe dans ce jeune mais désormais incontournable festival Metal. Il accueillit d'ailleurs en 2007 : Pearl Jam, Machine Head, Slayer, The smashing pumpkins et bien d'autres. Le concert de Marilyn Manson est ici trés bien filmé de la fosse malgré une scène éloignée et une foule agitée. Le concert tient en 2 DVD avec menus (sobres).
Rarety : 01/20