New York City
(U.S.A)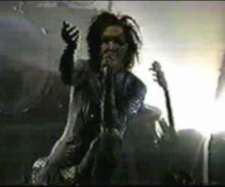 Place : Hammerstein Ballroom, New York, NY
Date : 23/11/98
Time : 79 min
Format : VCD
Quality Image / sound : A-
Tracklist :
Inauguration of the mechanicals Christ
The Reflecting god
Great big white world
Cake and sodomy
Posthuman
Mechanical animal
Sweet dreams
The Speed of pain
Rock is dead
The Dope show
Speech
Lunchbox
User friendly
Drugs speech
I Don't like the drugs
Rock'n roll nigger
Antichrist Superstar
The Beautiful People
Note : La tracklist est classique pour ce dernier show de la tournée Américaine avec une grosse partie de song tirée de Mechanical Animals. Le concert se termine sur une destruction totale de la scène : micro jetée dans le public, Twiggy jouant aux côtés de Pogo, batterie explosée ... etc. On regrettera juste l'image un peu sombre et le son parfois un peu brutal.
Rarity : 2/10