Minneapolis
(U.S.A)
Place : Minneapolis, Target Center
Date : 27/04/99
Time : 56 min
Qualité image / sound : B+/ B
Format : CD (mpeg)
Tracklist :
Inauguration of the mechanical Christ
The reflecting god
Great big white world
Get your Gunn
Mechanical animals
Sweet dreams/Hell outro
The speed of pain
Rock is dead
The dope show
Lunchbox
I don't like the drugs
Irresponsible hate anthem
Antichrist superstar
The beautiful people
Rock'n'roll nigger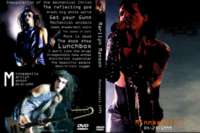 Note : Filmé d'extrêmement loin, le zoom reste assez puissant et est bien utilisé malgré une pixellisation et un flou parfois importants. L'image est un peu sombre et le son sature par moment. Le tout se regarde néanmoins facilement malgré une setlist un peu short à mon goût (manque un petit Cake and sodomy par exemple).
Rarety : 02/10