Minneapolis
(U.S.A)
Place : Minneapolis, Myth
Date : 08/02/98
Time : 80 min
Qualité image / sound : A
Format : mp4
Tracklist :
Cruci-Fiction in Space
Disposable Teens
Irresponsible Hate Anthem
Great Big white world
mOBSCENE
If I Was Your Vampire
Heart-Shaped Glasses
The Love Song
Sweet Dreams (are made of this)
Rock 'n' Roll Nigger
Tourniquet
Little Horn
The Fight Song
The Dope Show
Rock is dead
Coma White + Coma Black
1996
Antichrist Superstar
The Beautiful People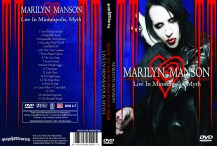 artwork Yamil
Note : Untradable version : format Avi. The show is quite good, setlist complete but without surprise. The stage is really well filmed by the taper and the sound is very good too !
Rarity : 1/10