Firenze
(Italia)
Place : Firenze, Palasport
Date : 29/05/07
Time : 62 min
Quality sound / image : B+c
Format : DVD
Tracklist :
Introduction
If I was your vampire
Disposable Teens
You and me and the devil makes 3
Irresponsible Hate Anthem
mOBSCENE
Sweet dreams (are made of this)
Putting holes in happiness
Just a car crash away
Rock is dead
Heart shaped glasses
Tainted love
The Dope Show
Great big white world
The Fight Song
The Beautiful People
The nobodies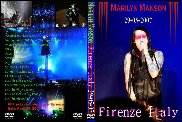 Note : Third date of the Eat me Drink me Tour and second date in Italia (only 2 shows in Italia for this tour). Unfortunately, speeches between songs are cut, a fan's head hides the right side of the scene and there're many camera shakes, audio crackles, etc. Rock is dead song is completely missed by the band and Nobodies isn't filmed...
Rarity : 2/10NO