Detroit
(U.S.A)
Place : Detroit, MI State Theatre
Date : 16/11/98
Time : 65 min
Qualité image / sound : A
Format : CD (avi)
Tracklist :
Interview
The inauguration of the mechanical christ
The reflecting god
Great big white world
The speed of pain
Rock is dead (cut)
The dope show
MTV presentation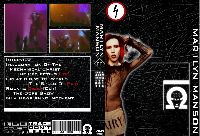 thx a lot to NCB for this artwork
Note : One basic interview before the show. Then the show is filmed from the back with only one camera. Quality is good but colour could be better. Unfortunately, only 5 full songs are filmed.
Rarity : 1/10