Brixton
(England)
Place : Brixton Academy or Carling Academy, Brixton (South london)
Date : 04/06/03
Time : 80 min
Qualité image / sound : A-
Format : DVD
Setlist :
Thaeter
This is the new shit
Disposable Teens
Irresponsible Hate Anthem
Use your first and not your mouth
Great Big White World
Rock Is Dead
mOBSCENE
Tainted Love
Para-noir
The Dope Show
(s)AINT
The Golden Age of the Grotesque
Doll-Dagga Buzz-Buzz Ziggety-Zag
Sweet Dreams (are made of this)
The Fight song
The beautiful people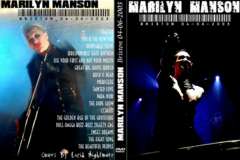 Note : Un des premiers bootlegs vidéos de la tournée. Filmé de la fosse, la qualité est pourtant loin d'être mauvaise : plutôt bien cadré malgré quelques têtes en obstacle, le son est quant à lui trés bon. Le show est aussi "mou" que le reste de la tournée avec toutefois une sympathique mise en scène générale.